WELCOME TO
STEELX
SteelX is an Australian owned and operated business engaged in the design, marketing and selling of quality pre-engineered steel buildings.
From its inception on Queensland's Gold Coast in 2000, the company's rapid growth has seen it expand across markets in Australia and New Zealand.
Today, SteelX uses its expertise in marketing, systems and business consulting to deliver cutting edge service, solutions and technologies to channels and brands servicing the steel building industry.
FAMILY OWNED BUSINESS
THE STEELX NETWORK
Established franchise network
Agent & referral agent representation
Nationwide coverage
Expert localised workforce
Leading Australian suppliers
Over 20 manufacturing plants around Australia
NATIONWIDE COVERAGE
SteelX employs its cutting edge service, solutions and technologies through a vast network of franchises, agents and referral agents across Australia and New Zealand. The network builds upon SteelX's long-standing partnerships with industry-leading suppliers and manufacturers to deliver consumers a comprehensive and tailored steel building solution.
INNOVATIVE SOFTWARE TOOLS
SteelX's brands are driven by an industry-leading proprietary software platform, the Shed Management System. The comprehensive software solution features end-to-end customer relationship management services. It also has the capacity to efficiently design and engineer ShedSafe-accredited steel buildings in accordance with a range of site specific design criteria.
SteelX's software systems can create customised designs that suit individual customer needs and site requirements. The design system can cater for class 1 housing designs, class 10 rural buildings and class 5-9 industrial/commercial structures.
MAKE SURE YOUR SHED IS SHEDSAFE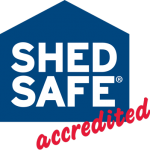 SteelX and its brands offer an extensive range of pre-engineered steel buildings that have proudly been recognised as ShedSafe, the industry benchmark for Australian manufactured steel sheds.
The ShedSafe program reviews the engineering plans and calculations provided by the consulting engineer engaged by the shed supplier. The review considers the design principles for compliance with the Building Code of Australia.
We are proud to be the only company to have two representatives on the ShedSafe committee.
SteelX works with local Australian suppliers to manufacture and consolidate our steel kit buildings. In fact, we partner with over 20 manufacturing facilities across the country. When you buy from a SteelX brand, you are getting a locally produced product, manufactured using genuine Australian BlueScope Steel.
CONTACT INFO
Please fill in the form below and we will be in contact with you as soon as possible.
+61 7 5657 8888
Level 3, 2 Boston Court, Varsity Lakes QLD 4227
Mon to Fri - 9:00am to 5:00pm
(Saturday & Sunday Closed)